Rev. Doug Minton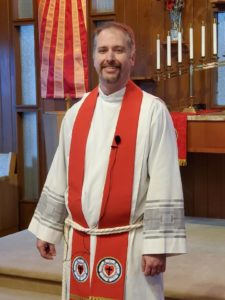 Rev. Doug Minton was born in Clarksville, IL. He is not a life-long Lutheran. He was raised in the Churches of Christ (Stone-Campbell Restoration Movement). He became a member of the LCMS in 2001.
Pastor graduated from Freed-Hardeman University in Henderson, TN, with a Bachelor of Science in Computer Programming in August 1998. He moved to St. Louis after graduation, where he met his wife Renee in February 2000. They were married in 2001. They have two children.
Pastor began his studies for the ministry at Concordia Seminary, St. Louis in 2003. He graduated in 2007. He has previously served Trinity Lutheran Church, Slayton, MN, and Redeemer Evangelical Lutheran Church, Robbinsdale, MN.
Pastor hosts the Wrestling with Theology podcast, which includes the Confessional Corner on Mondays, Pro Wrestling America (fantasy wrestling league) on Wednesdays, and Digging Deeper on Thursdays.
In his spare time, Pastor enjoys old school pro wrestling and roleplaying games.
Pastor was installed as the 15th pastor of OSLC on February 14, 2021.